This year's graduates at the Latino Academy for Workforce Development studied a topic that could hardly be more timely for Madison: air quality.
As part of Breathing Justice, a project by the Environmental Protection Agency, they were taught how to install and read air quality monitors in their neighborhoods, which are located in more polluted census tracts in south Madison and Fitchburg. 
A study by Harvard T.H. Chan School of Public Health found that Latino and other minority populations are exposed to higher levels of dangerous fine particulate air pollution than white and Native American populations.
Cristina Carvajal, executive director of Wisconsin EcoLatinas, taught the students for two months, beginning in April, about the importance of safe air quality levels and how to recycle.
The 10 graduates presented their findings last week during a graduation ceremony at the Latino Academy, which provides linguistically and culturally competent education and job training for adults in south central Madison.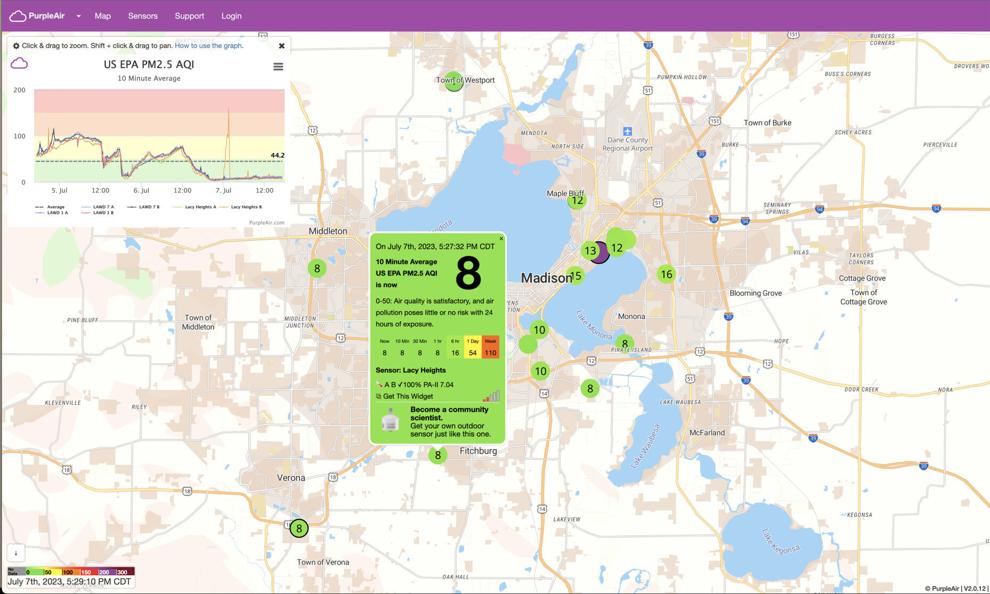 The graduates, who completed GED or ESL courses at the academy, took part in this project concurrently to develop their leadership skills. According to Baltazar De Anda Santana, executive director of the academy, the training was part of a Bilingual Leadership Academy program that aimed to prepare participants to advocate for their communities and provide them a platform to do so.
"Many times I am asked to speak on behalf of our students and the Latinx community," he said. "This program prepares the students so they can speak using their own voices."
Tracking air quality in their area helped them understand how much it was affecting their communities, the graduates said. 
"I was a doctor in Nicaragua and knew about human health, but I did not have as much awareness about the impact air quality has before," Milton Blandon, a 33-year-old construction worker, said, "so I definitely learned a lot in this program."
The graduation ceremony coincided with an air hazard event that same day. Smoke that drifted from Canadian wildfires had become so thick in Madison by June 29 that health officials rated the air "very unhealthy" outdoors.
Some of the graduates said they've been personally affected by poor air quality in their areas.
"I have a constant cough and keep having to go to the doctor," Lina Insall, a 38-year-old child care center owner said. "Before this class, I had no idea how much the air quality was affecting my health and the risks that we need to educate ourselves about."
Graduates said they believe they can use what they learned during the project to help their communities. 
"I now know how to act and protect myself, my neighbors, and my small community where I live," said Eva Rodriguez, who is 54 and works in a bakery. "We never thought it would be so helpful so soon."
"I am so grateful to have been able to learn more about recycling and the quality of air," Yyare Para, a 46-year-old school district bilingual secretary, said. "I am also grateful for the opportunity to be formed as a leader."
The graduates also presented a website that viewers can access to see the readings provided by the air quality monitors they had installed.
"The only thing the Latino Academy has done is give you a platform," De Anda, the director, told the graduates during the ceremony. "You have done the real work."
At the end of the ceremony, he presented a surprise to the students: a stipend of $1,000 each.
"When we talk about justice and equity, we have to recognize that your time is valuable and this is recognition of that," he said. "You can invest this in whatever you want."