There were 908 new COVID-19 cases found in B.C. in the past 24 hours.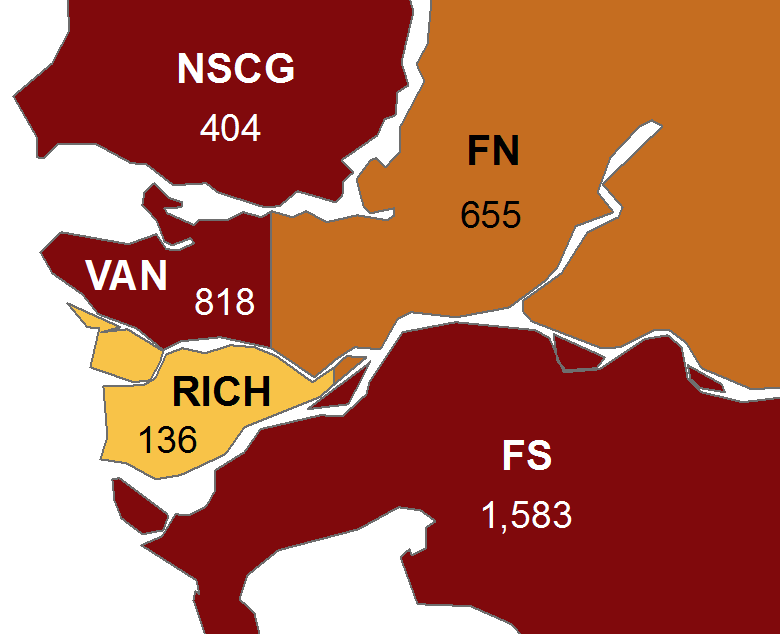 Map showing weekly number of COVID-19 cases in the Greater Vancouver region, by health service delivery area: North Shore – Coast Garibaldi (North and West Vancouver, Bowen Island, Sunshine Coast, Powell River, Howe Sound, Bella Coola Valley and Central Coast); Vancouver; Richmond; Fraser North (New Westminster, Burnaby, Maple Ridge/Pitt Meadows and Tri-Cities) and Fraser South (Langley, Delta, Surrey, South Surrey/White Rock). BCCDC illustration
The number of COVID-19 cases in Richmond continues to tick upward.
In the past week (March 18-24), there were 136 new cases, according to data released by the BC Centre for Disease Control (BCCDC) on Friday.
This is up from 115 last week and 100 the week before.
These rising numbers follow a provincial trend of more COVID-19 cases.
There were 800 new cases reported on Thursday across B.C., and 908 reported on Friday.
The daily number of cases detected in Richmond, per 100,000 population, however, continues to be lower than Vancouver and the South Fraser area this week.
In Richmond, BCCDC data shows between five and 10 cases are detected in Richmond every day, while in Vancouver this number is between 10 and 15.