When it comes to the relationship status between the broader community and the Pitkin County Board of Health, it's best described as, "it's complicated."
That became particularly clear in a conversation among Snowmass Village Town Council members toward the conclusion of their March 1 meeting, at which the board was tasked with making a health board candidate recommendation to the Pitkin County Board of County Commissioners — the members of whom themselves will be tasked with appointing said health board members who will fill the three vacant seats.
"I'm confused," Councilmember Tom Fridstein said after hearing an initial explanation of the task before him and his colleagues.
"You're not alone in that confusion," assured fellow Councilmember Bob Sirkus.
It reflected the general sentiment in the room, as conversation swung from one would-be solution to another. The conundrum? What to recommend happens to the seat on the Pitkin County Board of Health about to be vacated by former Snowmass Village Mayor Markey Butler, who also serves as chair of the health board.
Tom Goode, of the town council, at one point alluded to a letter penned by Butler that he said she makes clear she would like to remain in her post on the health board until the end of the pandemic. He generally supported that desire.
"I'm all for that — and I'm all for you staying on as an alternate," he said to Bill Madsen, who was elected mayor of Snowmass Village in November. "But what are the future plans? If the pandemic is over January '22, do we have to do it all over again? So what? I'm all for that, because she wants to."
Madsen — and eventually the rest of council — felt that while Butler's served her role well as the Snowmass Village representative, as she is no longer an elected official for the municipality, it would not be necessarily appropriate or logistically the most optimal option to have her continue for another term, which is five years.
"In general, if this is a person who's just out there with the community, the lines of communication don't seem to be as direct. It's harder for the council to be in touch with the community on this subject, and it has nothing to do with the individual's expertise, it just feels like it can create communication issues about how the residents of Snowmass Village feel about various issues," Sirkus said.
Madsen made the point that becoming a voting member on the health board on behalf of Snowmass Village would not be an added burden to his existing bandwidth — he already serves as Butler's alternate.
"I'm already doing it. I'm doing everything I would do, except vote. When we have an issue where it was like, 'Let's go back to our boards and our councils and get the consensus' and come back with a decision — make sure the town of Snowmass is represented appropriately — that's the only questionable part: are we going to be represented?" he said, noting that should Butler continue as a health board member, it would as an at-large citizen.
Not that that would be a bad thing, councilmembers generally agreed. In addition to mayor, Butler's resume includes a decades-long chapter as head nurse at a Detroit children's hospital and Ann Arbor hospital, CEO of two hospice organizations and then her own health care consulting company.
Tom Fridstein, also serving on the Snowmass Village Town Council, emphasized his respect for Butler's experience and perspective on the health board.
"I'm torn because I think Markey does a great job and I like having her there — it gives me a great deal of comfort having her there," he said. "It's hard to get communication with someone who's just part of the community, and it is an important position."
It's a far more important position than anyone serving on the board ever expected. The entity itself is a relative newcomer to the landscape of citizen boards serving the area; in fact, the Pitkin County Public Health department was only formed in 2017 with the hiring of the county's first public health director, Karen Koenemann, who in turn built the board "from the ground up" a year later, according to the county's website.
Its mission is a pretty standard one: "working with communities to promote health and prevent disease by protecting and enhancing environments, policies, and systems that support positive outcomes for everyone."
For most people who became the first board members, that meant fewer teens forming nicotine addictions through a vaping habit, said Greg Poschman, who serves on the board as a board of county commissioners representative.
"We were lobbying and testifying to the legislature about nicotine use and the tobacco tax and all that stuff," he said.
Then the pandemic came. "I don't think any of us realized what could happen. And what's really amazing is nobody peeled off, nobody bailed. Everybody is still in there, going for it," he said. "They've all stepped up to the plate and realize how important this is. Nobody expected the workload and stress load."
In fact, with the now painfully ironic phrase "hindsight is 20/20" in mind, Poschman said he almost feels guilty about his recruitment efforts to grow the board. One of those recruits was Dr. Jeannie Seybold, whose seat is also open as of April 1.
"Quite honestly, I'm feeling a little guilty because I went out and had to recruit people on the board of health. 'We meet quarterly, it'll be four hours a year,'" he recalled his sales pitch. "She's right there on the hot seat with the rest of, making these hard, hard calls."
Those hard calls — and the resulting scrutiny and even ire from community members — haven't deterred Seybold, however: she applied to serve another term.
"Ire is too nice a word," Poschman said.
Even when discussing emotionally and intellectually draining times over the last year of navigating the pandemic, though, Poschman and Seybold's moods were light Friday, as they were working at the vaccine clinic. For Poschman's part, he was working on his "standup routine," warning those with appointments at the drive-thru operation that some side effects of the shot may include craving a cheeseburger or single malt Scotch.
"The thing that's good for all our county workers … and everybody who's working this, just to see the gratitude. That part's great," Poschman said. "Everybody's just giddy. It's cool."
Seybold shared the elation. "I asked if I could get community service hours if I ever get arrested!" she laughed.
But the high spirits were directly proportionate to the lows felt since March last year, when COVID-19 disrupted business, livelihoods and, in too many cases, actual lives, Poschman reflected.
"I've realized I've lost four or five elder friends, and I also have some young friends who have been completely crippled from it practically," he said. "How do we square trying to keep everybody's convenience and their economic life going but meanwhile, we're running the risk of losing important accumulated knowledge and wisdom from our community? And that's the point that I practically cry. Nobody's going to be happy, but here we go."
And indeed, that's one point on which seemingly everybody can agree: nobody is completely happy. Jimmy Yeager, proprietor of his namesake Jimmy's An American Restaurant & Bar, noted that March is citizen boards month and encouraged fresh blood on the health board.
"The conversation needs to start with defining what community health is in the first place and then how to best represent all aspects of health in that context," he said in an email. "We learned, much to our chagrin that the BOH yielded an unhealthy amount of unilateral power to make decisions that affected all of us."
To make his point, Yeager posted to Casey Endsley's Facebook page after Endsley did not win one of two open Aspen City Council seats Tuesday about the health board openings.
"All applicants are ensured an interview which is a public process as they are conducted at broadcasted BOCC work session meetings throughout the month of March. The deadline to apply is April 2, 2021," Yeager wrote. "The BOCC needs to decide that business owners are qualified to be a voice on the BOH, as well as economists who can speak to economic damage in a health context. This is not meant in any way to impugn any current members of the BOH, as they were appointed pre-COVID, when the board was not making decisions that were far reaching to the point where, at minimum, they literally decided who could work, who could go to school, and who couldn't."
One failed city council candidate who did apply for one of those seats is Sam Rose — but, going back to the underlying confusion surrounding the matter — he's not even sure he'll be allowed to serve even if county commissioners wished to appoint him. As the lead contact tracer for the county, he's an employee of Pitkin County Public Health.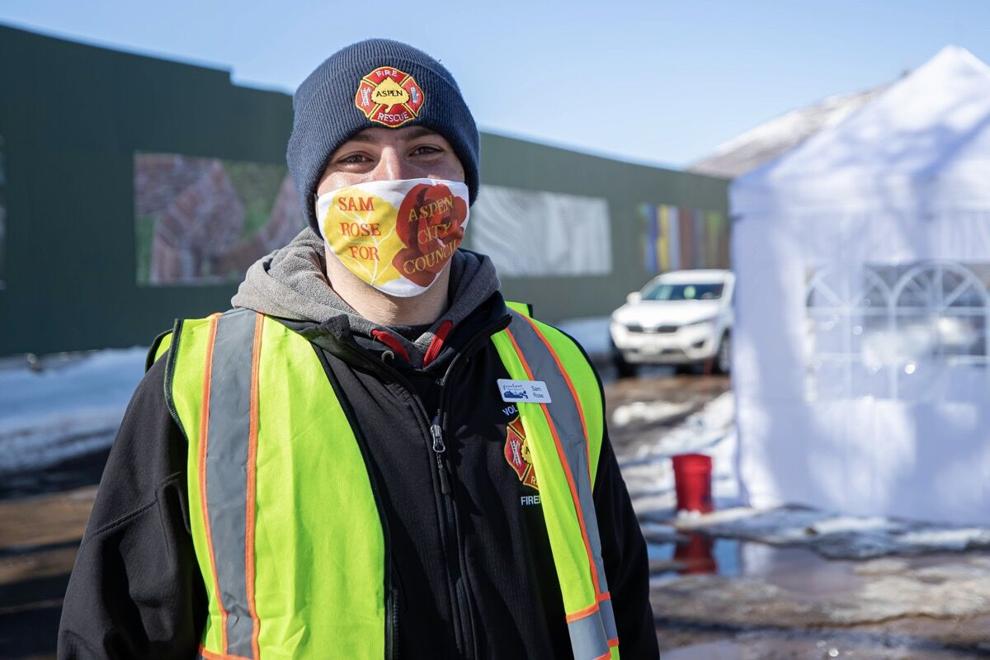 "I've had an outpouring of support from a lot of people since the city council election, and I feel like I owe it to myself and owe it to them to try to make an impact one way or the other," Rose said Saturday, noting that he actually applied for several boards within the city of Aspen, as well. "I definitely would love to be on the board of health. When I wrote in my application for it, I felt they should have someone who is more of a frontline worker on the board of health."
For all the evolving roles of what had been a "quiet board," as Snowmass Village Councilmember Alyssa Shenk said, Poschman remains proud of what has been accomplished in unprecedented times and hopes that, at least for now, the current guard remains in place.
"I'll be surprised if our board doesn't just reappoint people because we've got a great board … of medical professionals who have proven their worth in a difficult time. We're probably going to keep the same horses in the game because they've actually done a great job," he said.
And he hopes that the Pitkin County Board of Health can serve as an example for other health boards across the state. The Colorado House of Representatives is considering a bill that would no longer allow boards of county commissioners to double as boards of health, as is currently the case in Garfield County, for instance.
"We've decided we want to have a seven-member board of health, with four citizens at large and three electeds. That's unique in the state," he said of the citizen-majority structure.
As for the Snowmass recommendation? While the BOCC isn't beholden to any such recommendation, the council ultimately unanimously agreed to recommend that the current Snowmass mayor — the two-year mayoral terms and five-year health board terms don't align — serve in an official capacity on the board of health, with the added recommendation that Butler remain in a voting capacity in her own right.
"This conversation just gave me a headache," Shenk said afterward.