NKU has been named one of the top learning environments for practicing medicine after incorporating the simulation labs in the Health and Innovations Center, according to the Society for Simulation in Healthcare.
Recently, the simulation center earned accreditation from the Society and the Council for Accreditation of Healthcare Simulation Programs. NKU is the only university in the state with this accreditation and only one of 183 worldwide.
Professor Rami Leventhal teaches in the simulation labs and says that they allow students from all health professions to practice and learn in a realistic environment. 
"We have two stories, one labeled an outpatient and inpatient area and we have an emergency room setting and an operating room setting. So nurses and other students can really practice how to take care of a patient," Leventhal said.
Leventhal said the equipment in the labs are the newest state-of-the-art technology. 
"We have mannequins that range anywhere from $20,000 to $120,000. They are really advanced fancy mannequins that are physiologically based, meaning that one of our mannequins can breathe, he has a pulse, he blinks, he can bleed, he can talk. But the big part is they can physiologically present things that an actor cannot," Leventhal said.
Students from all different types of specializations are learning in the simulation lab environment. 
Students say the real-life scenes and scenarios help them learn how to deal with any situation that they may come upon in the medical field.
Hope Wagner, art therapy student, learned in the labs last semester. She said the technology really helps students learn about any real life situation.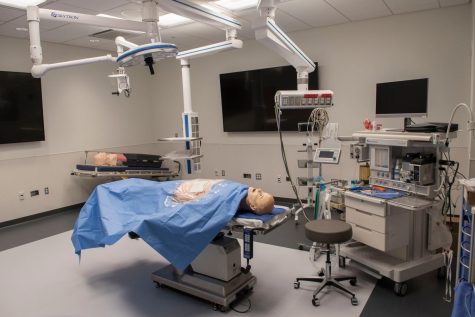 "In a simulation lab, they have high fidelity mannequins, which simulates human behavior as well as human functions. I think it helps to interact with the high fidelity mannequins because they can do actions, similar to real human diseases or injuries," Wagner said. 
Shawn Nordheim is a professor of nursing at NKU; she also is one of the simulation educators. She said this technology is really important for students to learn the concepts they will face in their field.
"By making our students process multiple concepts and make split minute decisions in the simulation lab, it helps our students develop their critical thinking skills which ultimately improves patient care. Improved patient care translates into early discharge from hospitals and better patient outcomes," Nordheim said.
Educators also agree that the simulation center is the new normal in health education. 
"This teaching strategy is here to stay, there's no doubt about it because you could see what's going on in health care," Nordheim said.
Nordheim also said this program is the best in the region because of the faculty that teach students. 
"I think the simulation educators are very committed to their craft. The simulation technicians, the educators were all very committed to making the simulation as authentic as possible," Nordheim said.
You can take a virtual tour of the simulation center here.